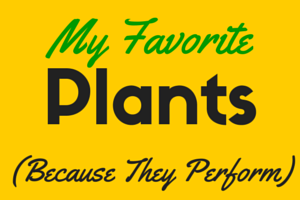 I'm constantly evaluating new plants…
I've grown and killed more plants than I care to admit, but I've learned what's easy and performs.
So, save a bunch of time and energy and stick to this list for the best of the best.
When you're just starting your landscape, design with trees first because they take up the most space.
Trees
Shade Trees : Use These on Your Southern and Western Exposure to save on your A/C bill
Willow Oak – Quercus phellos – My personal favorite; fast growing, strong central leader
White Oak – Quercus alba – This tree will live hundreds of years. Slow growing, elegant
Nuttall Oak – Quercus nuttalli – Great fall color, fast grower
Swamp White Oak Quercus bicolor – Big leaf, cool exfoliating bark, slow grower
Bald Cypress Taxodium distichum – Deciduous conifer, fast grower, tolerates standing water
Tulip Poplar Liriodendron tulipifera – TN state tree, tulip blooms in May, huge leaf, fast grower
Red Maple Acer rubrum – Red Fall color, fast grower
Sugar Maple Acer saccharum – Spectacular yellow-orange Fall color, slow grower
Blackgum Nyssa sylvatica – Very consistent red fall color, fast grower
Exclamation Plane tree Platanus acerifolia 'Morton's Circle' – Very fast grower, white winter bark
Large Evergreen Trees: Large Open Spaces
Norway Spruce – Picea abies – This needle evergreen has a cool droopy shape and large pinecombs
Cryptomeria – Cryptomeria japonica – Pyramidal shape, unique needle texture
Green Giant Arborvitae Thuja plicata 'Green Giant'
Evergreen Trees for Privacy Screening
Emerald Green Arborvitae Thuja occidentalis 'Smaragd' – 4 ft. wide x 20 ft. tall
Degroot's Spire Arborvitae Thuja occidentalis 'Degroot's Spire – more narrow than Emerald Green
Eastern Redbud – Cercis canadensis – Spring blooms, fast grower
Serviceberry – Amelanchier laevis – Edible fruit, white blooms
Flowering Dogwood – Cornus florida – White (or pink) flower bracts, red fruit
Kousa Dogwood – Cornus kousa – White bracts, colorful bark
Japanese Stewartia – Stewartia pseudocamellia – Summer bloom, colorful bark
Crapemyrtle – Lagerstroemia sp. – Summer blooms, many great varieties
Katsura tree Cercidiphyllum japonicum – Fast grower, lollipop shape
Japanese Maple Acer palmatum – Slow grower, numerous varieties
Since you obviously like great info, join the My Landscape Guide Success Group and never kill a plant again…
Once you get the trees figured out, it's time to think about shrubs…
Large Evergreens – Install for Tall Hedge or Privacy
Prague Viburnum Viburnum x pragense – 10 ft. wide x 10 ft. tall, blooms white in May
Leatherleaf Viburnum Viburnum rhyt. 'Allegheny' – 25 ft. wide x 25 ft. tall, deer will not eat leaves
American Boxwood – Buxus sempervirens – Tolerates shady location very well, dark green color
Dwarf Evergreens – Foundation Planting or Short Hedge
Compacta Japanese Holly – Ilex crenata 'Compacta' – dark green color, 6 ft. mature height
Dwarf Yaupon Holly – Ilex vomitoria 'Nana' – great hedge plant, replacement for dwarf English boxwood
Green Velvet Boxwood – Buxus 'Green Velvet' – grows slowly, small leaf shape and texture
Korean Boxwood – Buxus microphylla – Easy to grow, grows much faster than American Boxwood
Phantom Hydrangea – Hydrangea paniculata 'Phantom' – fast grower, huge blooms
Limelight Hydranga – Hydrangea paniculata 'Limelight' – my favorite, best hydrangea available
Rose of Sharon – Hibiscus moscheutos – Summer blooms, many colorful varieties
Small Mature Size Flowering Shrubs
Winterberry – Ilex verticillata 'Winter Red' – red holly berries at Christmas, needs 'Southern Gent' nearby
Bobo Hydrangea – Hydrangea paniculata 'Bobo' – very small mature size
Little Lime Hydrangea – Hydrangea paniculata 'Jane' – little sister to Limelight, bigger than Bobo
Dwarf Crapemyrtle – Lagerstroemia sp. – many varieties and colors, summer bloomer
Red Twig Dogwood – Cornus stolonifera – Red stems in Winter, Spring bloomer
Tree and shrub knowledge put you way ahead of your neighbors. I offer even more insider information to email subscribers. Feel out the form below to join the My Landscape Guide Success Group.
Perennials
Verbena – Verbena 'Homestead Purple' – covered in purple blooms in Spring, may rebloom
Creeping Ginny – Lysimachia – yellow chartreuse color in shade, green color in full sun
Periwinkle – Vinca minor – blue flower, glossy foliage, grows in shady area
Iris – Iris sp. – TN state flower, blooms in April, spreads by roots, can be divided
Coneflower – Echinacea purpurea – Reseeds, blooms in late Spring-Summer
Yarrow – Achillea – reseeds, fernlike foliage, easy to grow
Beebalm – Monarda didama – will reseed, spider-like red bloomer, attracts hummingbirds
Black Eyed Susan – Rudbeckia – yellow blooms all Summer, spreads easily by seed
Ornamental Grasses (Need Well Drained Soil)
Feather Reed Grass – Calamagrostis 'Karl Foerster' – beautiful Fall plumes
Blue Fescue – Festuca 'Elijah Blue' – small mature size, blue grey color
Maidengrass – Miscanthus 'Gracillimus' – fine leaf blade
Maidengrass – Miscanthus 'Morning Light' – very light green, almost white grass blades
Muhly Grass – Muhlenbergia capillaris – beautiful pink plumes in Fall, excellent in mass
Fountain Grass – Pennisetum alopec. 'Hameln' – Dwarf ornamental grass good for small spaces
Annuals
Cockscomb – Celosia – plant it once, will reseed, beautiful unique bloom
Begonia – Begonia – My favorite is the dragon wing variety, many colors to choose from
Petunia – Petunia – great for hanging baskets and to take up a lot of space
Calibrachoa – Calibrachoa – awesome in hanging baskets, smaller bloom than Petunia
Margiold – Tagetes – great for organic garden, wards off bad insects, I love orange color
Gerber Daisy – Gerbera – classic, she loves me, she loves me not flower petals
Zinnia – Zinnia – loves hot weather, blooms till frost, many colors and double bloomers
Coleus – Coleus – Sun or shade, this annual never disappoints, many varieties
Sweet Potato Vine – Ipomoea batatas – grows all Summer long, 'Margarite' is chartreuse, 'Blackie' great too
Edibles
Perennials (Live for Several Years)
Oregano – Origanum sp. – spreads, fast grower, evergreen
Rosemary – Rosmarinus officinalis  – beautiful evergreen and herb for cooking
Blueberries – Vaccinium – need acidic soil, other edibles like neutral pH soil, blue green foliage, fall color
Annuals (Live for One Growing Season)
Basil – Ocimum basilicum – loves hot weather, crucial for pesto
Lettuce – Lactuca sativa – cool season veggie for Spring and Fall
Kale – Brassica oleracea – cool season, ornamental foliage and texture, great for pet bunnies
Broccoli – Brassica oleracea – cool season veggie, watch out for cabbage moth/worms!
Tomato – Solanum lycopersicum – needs hot weather, keep the leaves dry to keep away disease
Parsley – Petroselinum crispum – easy to grow, great ornamental leaves
Finally, after your ornamental plants are picked, you finish with the remaining space for turf.
Turf (Grass)
Cool Season (Green in Winter)
Fescue Blend Most Shade Tolerant – Creeping Red
Warm Season (Dormant-Brown in Winter)
Meyer's Zoysia
Bermuda – Use caution, it spreads
Cacti (Kept in Garage in Winter)
Blue Agave
Citrus (in container, overwinter Inside)
Meyer's Lemon
Take advantage of my years of experience. Fill out the form below to get started with My Landscape Guide!