Why do you even care? You're busy, right!?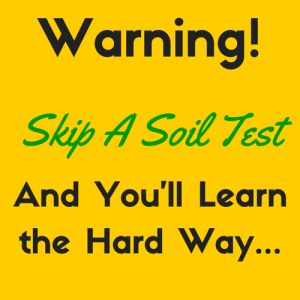 Soil tests tell you exactly what your lawn, landscape, or soil is missing. Add the proper ingredients and your patch will thank you by looking great!
Soil tests are used by the pros, because they work!
You Probably Know Your Problem Area
If you definitely have bad soil in one spot and better soil in other places, consider two soil samples for lab analysis. I recently paid $8.50 for each sample with a 10 day result. Call your local farm extension office for options.
Where To Buy
I have never bought soil testing equipment online. I don't endorse any soil testing kit sold online. Just send your soil off to a pro lab through professional networks.
Your local agriculture extension office will know where to go. If you have a local farm store, they will know what to do. You may have a farmer's co-op in the area, they'll have an answer.
Step by Step
Scrape the vegetation (grass, etc.) away from the hole. You don't want grass or any organic matter in the sample, just soil. Organic matter like grass will skew your lab results.
Dig a small round hole 6 in. deep. Place the backfill soil away so it doesn't mix with your sample.
Shave the edges of the hole with a trowel or spade and use as your sample.
Place the soil sample in two (double-bagged) plastic grocery bags to prevent spillage in the car.
Dig two more holes and repeat (Optional, but recommended).
Follow any additional instructions on soil test bag.
Understanding Your Soil Test Results
Actual soil test results. Notice the recommendations at the bottom based on pounds (lbs.) per 1000 sq. ft.
Your results will describe the amount of Nitrogen, Phosphorous, Potassium, etc. This is why you buy the soil test from a farm store. They will know how to interpret the results and have the ingredients you need to fix your soil.
For example, say you want green grass. You get a soil test. It shows low magnesium and calcium. You add limestone in the proper amount, the soil pH changes, and your grass looks brilliant.
If you get a soil test and need help with the results, please contact me on the Facebook page and I'll do all I can to help you succeed!